The chef's salad bowl is a great addition to anyone's menu. I don't know about you but I really love a good salad. I could eat salad's probably almost three or four times a week. When I was younger I did go through a vegetarian stage for a while, but finally decided to go back to eating meat. Why? I suppose because it got a little expensive trying to keep up a vegetarian diet for just me, and a meat-filled diet for the other eight family members.
Well, enough about me and my family. On to what you came here to see, the recipe.
What alternatives can be added to the chef's salad bowl recipe
Whether you're a beginner cook or an experienced chef, you can make the classic chef's salad bowl recipe your own. With a few simple ingredients, such as lettuce, tomatoes, olives, and cheese, you can add a variety of alternatives to the bowl.
Try adding hard-boiled eggs, grilled chicken breast, ham, bacon bits, or even avocado slices for an extra kick of flavor. You can also switch up the dressing by using balsamic vinaigrette, ranch dressing, or even hummus. Get creative and create a unique chef's salad bowl recipe that will tantalize your taste buds!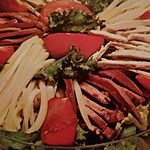 Chef's Salad Bowl
The Chef's Salad Bowl is an amazing salad to make any time of the year. Growing up my grandma use to use cooked tongue instead of the ham. My preference is the ham, even though it is delicious either way.
Print Recipe
Pin Recipe
Rate Recipe
Equipment
1 small bowl

1 wire whisk or rotary beater

1 wooden spoon

1 large salad bowl

1 knife

2 salad spoons for tossing
Ingredients
2

tbsps

low-calorie mayonnaise

½

bottle

8-oz low-calorie oil and vinegar-type of dressing

crisp salad greens

2

tbsps

fresh chives

2

cups

slivered ham

1/2 lb

11/2

cups

slivered cooked chicken

1/2 lb

¼

lb

natural swiss cheese

slivered

1

medium tomato

cut into 8 wedges
Instructions
In a small bowl, combine the dressing with the mayonnaise. Take either a wire whisk or a rotary beater and beat the mixture really well. Cover this mixture and refrigerate it.

Before serving shred the salad greens to bite-size, and place the greens and chives into a salad bowl. Add the ham. chicken and cheese.

Stir the dressing really well, and pour over the salad. Then be sure to

toss

the dressing mixture to be sure and coat the meat and greens thoroughly. Garnish with tomato wedges and serve.
Nutrition
Nutrition Facts
Chef's Salad Bowl
Amount per Serving
% Daily Value*
* Percent Daily Values are based on a 2000 calorie diet.
The chef's salad bowl is really simply an easy recipe to make. I feel that the majority of the prep time is due to having to cut up all the ingredients that you will be adding to this delicious and filling salad.
When I am not wanting to heat up the kitchen in the summertime, or get off work and perhaps may be too tired to want to cook much, I simply decide to prepare this extremely easy salad and can have this salad all ready to eat in less than twenty to thirty minutes.
I also love the fact that you are able to substitute any of the ingredients that I chose to use in this recipe for any of your family favorites, and it won't change the taste of this salad. This recipe is definitely a great addition to anyone's menu. Once you try the salad, please leave me a comment below and let me know what you thought of it.