Baked lobster is a really delicious treat at any time. When I was young, I use to think that baked lobsters were the ugliest things I had ever seen. More or less wanting to put one in my mouth. But as we grow up we learn that not everything that we think is unappealing to our eyes does not necessarily tastes bad.
What Vegetables Go With Baked Lobster
Baked potato with butter and sour cream w/chives, Steamed Broccoli, corn on the cob,  Mushrooms in Butter, green bean or cucumber salad, Cornbread, or french bread to sop up all the good flavors of the baked lobster. You can add dipping sauces to it for more flavor.
My favorite dipping sauce is a butter sauce, and the more buttery it is the more I love to dip the baked lobster into it.
Ways to store leftover baked lobster
Store your leftover lobster in an airtight container and keep it in the refrigerator. Try to use it within a day or two for optimal freshness. Reheat lobster before serving to ensure its safety and flavor, but be sure not to overcook it so that it stays moist and tender! Bon appetit!
Baked Lobster
If you want to add flavor to the baked lobster you can season the water with salt and white pepper. For added flavor make a blend of equal parts of salt, dried oregano, paprika, cayenne pepper and black ground pepper. Add half of this to the water and reserve the rest for seasoning after cooking.
Print Recipe
Pin Recipe
Rate Recipe
Equipment
1 knife

1 potato masher

1 large flat baking pan

1 large bowl

1 large serving spoon
Ingredients
2

(1¼-to 1½-lb lobsters

each split and claws cracked

1

cup

finely crushed round buttery crackers

⅓

cup

melted butter or margarine

few grains of pepper

1½

tbsps

worchestershire sauce

1

tbsp

dry white wine

½

tsp

paprika

chopped parsley
Instructions
Heat your oven to 375F.

Remove the tomalley (green liver) from the lobsters, then mash it and save it for later.

Place the lobsters, with the split sides up in a large flat baking pan.

In a bowl, mix together the cracker crumbs, pepper, wine, Worcestershire sauce, and only ¼ cup of the melted butter. Then add the saved tomalley and mix well.

Now you should lightly spoon the mixture into the cavity of the lobster. Then you should sprinkle the remaining butter on the now exposed lobster meat.

Bake the lobster uncovered for about 35 minutes, it not totally done add another 5 minutes to your total cooking time.

I would now sprinkle thee lobster with parsley and paprika, When I serve the lobster I like to add some melted butter on the side.
Nutrition
Nutrition Facts
Baked Lobster
Amount per Serving
% Daily Value*
* Percent Daily Values are based on a 2000 calorie diet.
If you don't know what the green stuff is in the lobster it is called the tomalley. Tomalley (from the Carib word tumale, meaning a sauce of lobster liver), crab fat, or lobster paste is the soft, green substance found in the body cavity of lobsters, that fulfills the functions of both the liver and the pancreas.
Some Side Dishes I pair with Baked Lobster
Steamed clams or mussels.
Potato Salad.
Pasta Salad.
Fresh salad.
Coleslaw.
Clam Chowder.
Corn on or off the cob.
Mac and cheese.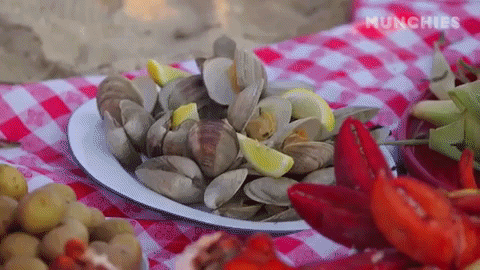 So if you can get past the look of the lobster, and the feel of it, I would suggest trying this. I use to cry every time I had to cook one. Yes, I did say cry! But now, not so much and I have grown to know that I am not killing something that God did not place here with the purpose of being a food source. Later!!