Dessert turnovers are so delicious. I decided to try a variation of my grandma's recipe and mine. So instead of the usual dessert turnover, this is what I came up with. For this recipe, I am calling it a dessert turnover since I am using sweet potatoes, pineapple, and coconut in the recipe, however, my best version of this recipe would be an apple turnover or sweet potato turnover.
No matter what you choose to call them, it does not change the look and taste of this recipe. I made these the other day and they really turned out so nicely. Not perhaps perfect, but good enough to serve. Even when you attempt to use the same amount of filling in each, they may come out as mine did. Some may be slightly smaller than others, but please don't worry about this.
How did the dessert turnover get its name?
The dessert turnover may have a funny name, but it's no joke. This classic comfort food has been passed down through generations of families and is now available to anyone interested in learning how to cook.
Its name comes from the fact that you 'turn over' the dough while preparing it – hence the 'turnover'! So why not learn how to make this delicious treat for yourself or your family and carry on the tradition?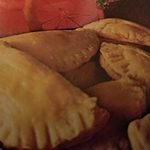 Equipment
1 pastry blender

1 pkg plastic wrap to wrap the pastry

1 medium bowl

1 wooden spoon

1 wooden cutting board

1 round cookie cutter

1 or 2 cookie sheet

1 teaspoon

1 fork

1 pastry brush

1 wire rack
Ingredients
Filling
½

cup

mashed sweet potatoes

¼

cup

crushed drained pineapple

¼

cup

sugar

¼

cup

flaked coconut

¼

tsp

salt

1

egg yolk

Confectioners' sugar
Pastry
1

cup

sifted all-purpose flour

1

pkg

3 oz

cream

cheese

¼

lb

margarine or butter
Instructions
To make the pastry. Mix all pastry ingredients together with your fingertips or a pastry blender, until the mixture forms a ball. Then divide the dough in half, and wrap each one separately and let them chill for about 30 minutes.

To make the filling. In a medium-size bowl, mix the sweet potatoes, sugar, salt, coconut, and pineapple.

Preheat the oven to 375F.

Now roll one portion of the dough at a time on a lightly floured pastry cloth or wooden board, until it reaches 1/8 inch thick. With a cookie cutter, cut the pastry into circles, about 3 inches round.

Place a heaping teaspoonful of the filling on one side of each of the pastry circles. Then

fold

the pastry over the filling, and press the edges together with the fork. And place on the cookie sheets.

Bear the egg yolk slightly with about 1 tsp of water. Brush each of the dessert turnovers with the egg yolk mixture. Bake them for about 15 minutes or until golden brown. Let them now cool on a wire rack. Sprinkle with confectioners' sugar.
Nutrition
Nutrition Facts
Dessert Turnovers
Amount per Serving
% Daily Value*
* Percent Daily Values are based on a 2000 calorie diet.
Do not forget to sift the flour in this recipe before measuring it. This is a great dessert to serve at any time of the year or event. The dessert turnover is really delicious and easy to make. It is an easy prep process and does not take long to cook. Most of the time will be allowing it to chill because the insides of these dessert turnovers are extremely hot when first taken out.
If you do not have the time or do not wish to go through the process of making the dough, you can always purchase it at most grocery stores. I do this quite often, yes! If cooking for a large event, or a special occasion, and sometimes for the church and running short on time, I will simply take this shortcut so as to give myself additional time to be able to get a lot accomplished at once. Don't worry it will still taste just as tasty.
Once you make and try these dessert turnovers, please leave a comment and let me know how you enjoyed them, and or what tweaks you made to yours. Check back later to find out what I make and post next.