To make a baked country ham is actually a two-day process if done correctly. Yep, most people cram it into a one-day process. The baked ham should not still be super salty when done. So just follow this recipe and enjoy!!
The Difference Between A Country Ham and City Ham
City hams are wet-cured, and country hams are dry-cured. Country hams are older, drier, and saltier, while city hams have a milder, juicier consistency. If you've never had country ham, you might be surprised by its saltiness and flavor, and you may be unfamiliar with how it is best cooked and served. Always make sure to cook the ham to an internal temperature of at least 165 degrees, and when cutting the ham, I always do it at a 90 degrees angle.
What can you do with leftover baked country ham?
With a little creativity, leftover baked country ham can be transformed into a delicious and satisfying meal. Try adding it to a quiche, omelet, or frittata for added flavor. You can also use it to make a savory sandwich, wrap, or panini.
If you're feeling adventurous, chop up the ham and add it to your favorite macaroni and cheese recipe for an extra-special touch. No matter how you choose to enjoy it, leftover baked country ham is sure to inspire some tasty dishes that will bring smiles to the table!


Baked Country Ham
Baked Country hams are so delicious. Country hams are salt-cured (with or without nitrites) for one to three months. They are usually hardwood smoked (usually hickory and red oak),
Print Recipe
Pin Recipe
Rate Recipe
Equipment
1 large deep roasting pan and lid

1 roll paper towels

1 knife

1 small heavy saucepan

1 rotary beater or hand beater

1 wooden spoon
Ingredients
10 to 12

lb

country-style ham

1

bottle

1 pt, 12 oz ginger ale

2

tbsps

sweet-pickle juice

½

cup

light brown sugar

firmly packed
Mustard Sauce
½

cup

light brown sugar

firmly packed

2

eggs

2

tbsps

butter or margarine softened

½

cup

mustard

⅓

cup

cider vinegar
Instructions
On the first day, place the ham into the large, deep roasting pan and cover completely with cold water. Let the ham stand in the water for about 12 hours or overnight. On the next day, wash the ham in fresh water and dry with paper towels. Then preheat the oven to 350F.

Place the ham with the fat side up, into the roasting pan. Then pour the ginger ale over the ham. Bake the ham covered for about 4 hours or until the ham is tender. Now you should remove the ham from the oven, and with a sharp knife remove the skin and score the fat.

Sprinkle the ham with brown sugar, then drizzle the ham with the sweet-pickle juice.

Bake the ham uncovered for about another 30 minutes until you see the sugar is melted and the ham is glazed. You can serve it hot or cold, slice the ham diagonally and thinly. Serve the ham with the mustard sauce.
Mustard Sauce Instructions
In a small, heavy saucepan with the rotary beater, beat the eggs, mustard, sugar, and the butter.

Cook this mixture over low heat, making sure to stir the mixture constantly, until it is slightly thickened for about 10 minutes. This makes about 1 1/2 cups. You can serve this either cold or at room temperature.
Nutrition
Nutrition Facts
Baked Country Ham
Amount per Serving
% Daily Value*
* Percent Daily Values are based on a 2000 calorie diet.
I made this baked country ham recipe about two weeks ago and it turned out really nice. Normally, I don't eat much-baked country ham, but it is a great recipe nonetheless. I do make it on holidays and for others.
It's All About the Presentation
Remember when you get ready to slice the country ham that it is all about the presentation. Slice it remembering that the bone runs across the length of the ham. Please do not cut the ham as if it has simply been butchered.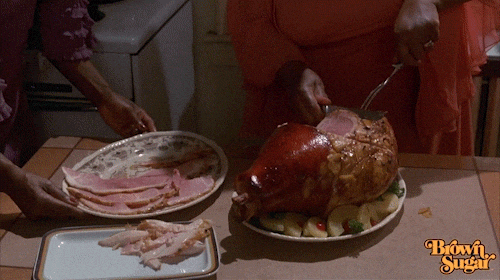 Just so you know, the mustard sauce is actually up to you. I personally do not use it with my ham on a regular basis. The main reason I have suggested it to you is that I noticed a lot of my friends and family members do prefer it and the one time I did not make it, I did have a few ask for it. So now I just prepare it just in case. So whether you choose to make it or omit it from your recipe is actually your choice. Leave me a comment and let me know what you decided.